Projet « Familia Rex Bourbon »
Exposition collective, « Nuit d'art de pleine Lune « , Cheminements, Musée Villèle, 2014, Réunion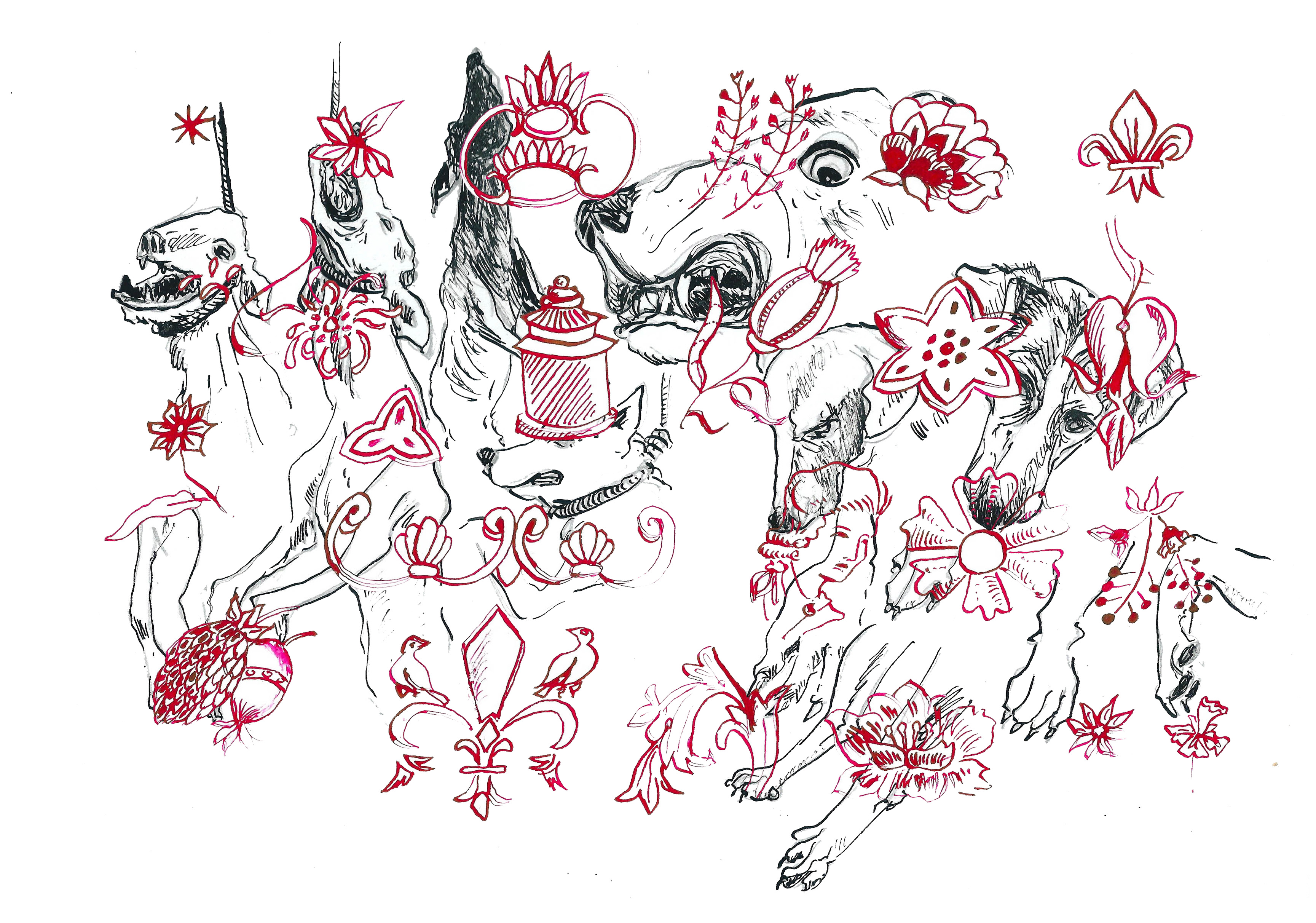 Croquis de présentation du projet « Familia Rex Bourbon »
installation « Familia Rex Bourbon », technique mixte, dimension variable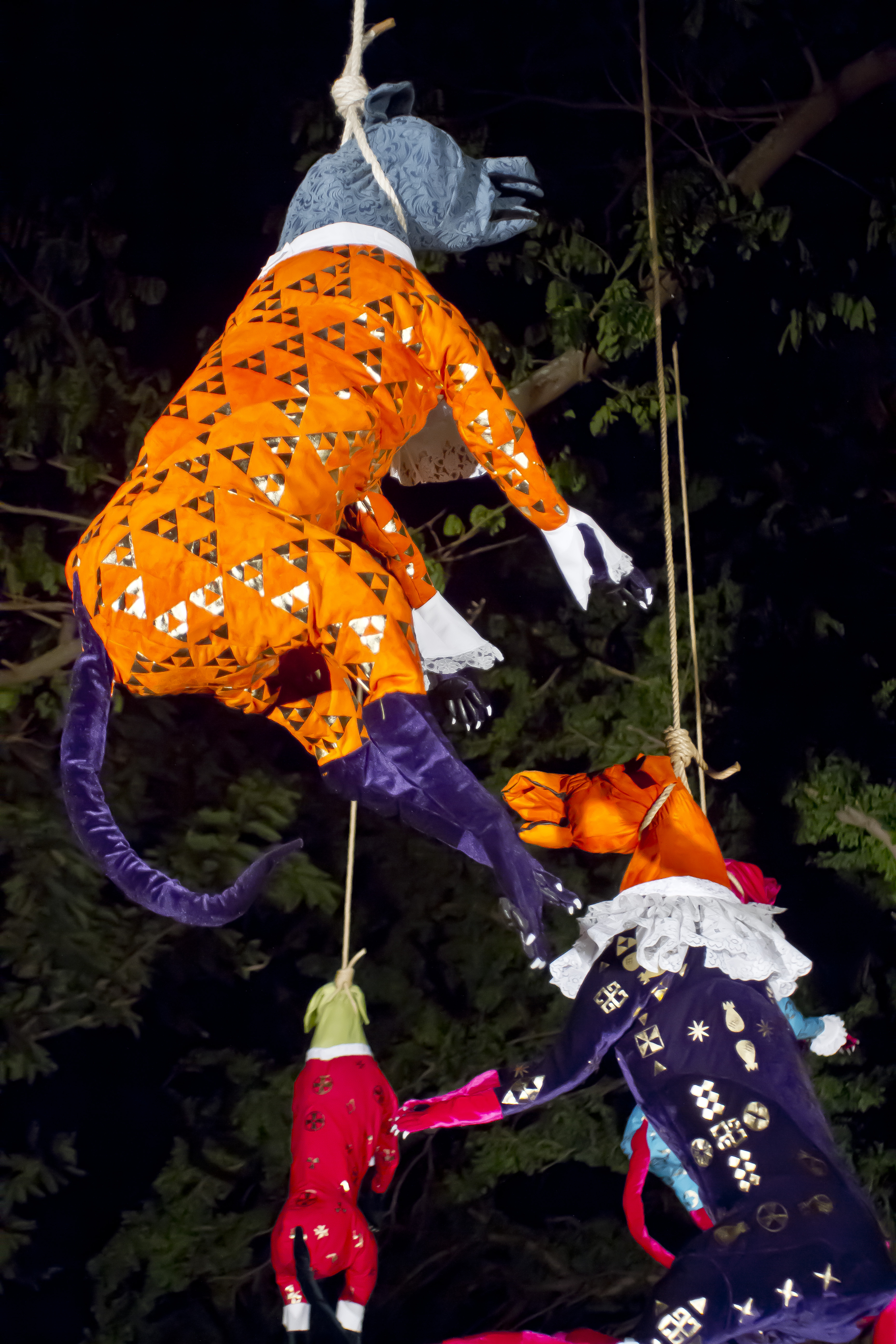 Détails de l'installation
installation dans un arbre du jardin Villèle
 Le musée accueille chaque année « Les Nuits d'art de Pleine Lune » organisées par l'association Cheminements.
 Cette installation de 7 chiens pendus en tissu, est le résultat d'une résidence d'artiste au sein d'un lycée Mode/Design à la Réunion. Les tissus et les motifs imprimés ont été choisis par l'artiste ainsi que le sujet et sa mise en situation. Cette proposition est basé sur un jeu de mot. Les chiens bâtard ou métis peuplant le Réunion, souvent laissé en liberté, voir errant, sont appelés Royal Bourbon. Ce terme Royal Bourbon fait aussi écho à la famille Royale de France, la dynastie des Bourbon dont était issu Louis XIV ou Louis XVI. Elle devint la famille régnante de France du 16ème siècle (Henri IV) jusqu'au 19ème siècle,
 La pendaison est un clin d'oeil à la jsutice expéditive et exemplaire, à une mise à mort discriminatoire. tel que les noirs américains l'ont connus face au Ku KLux Klan, par exemple.
 Il est à noter que le Musée Villèle, est une ancienne maison de domaine de maître ayant eut pour activité l'exploration de la canne à sucre et de l'être humain. Villèle est un exemple de fleuron d'exploitation esclavagiste, avant 1848, à l'île de la Réunion. Deux dynasties s'y sont succédées, les Panon Desbassayns durant la première moitié du XIXème siècle et leurs descendants, les Villèle jusqu'en 1973.
Each year the Villèle Museum on Reunion Island hosts an artistic event called « Les Nuit d'art de Pleine Lune » , implemented by the Reunionese organisation « Cheminements ».
This installation consists of 7 hanged dogs made of textile, resulting from a workshop with Fashion and Design students on Reunion Island. Textiles and patterns were chosen by the artist as well as the subject and its artistic message. This work is based on a pun. The Reunionese stray dogs are called « Royal Bourbon ». This expression "Royal Bourbon" reminds of the French Royal Family, called the Bourbon dynasty to whom belonged Louis XIV or Louis XVI. This French reigning dynasty ruled France from the 16th century until the 19th century.
The hanging dogs are a wink to the expeditious and unfair way of making justice such as black Americans have experienced it in front of the Ku Klux Klan.
The Villèle Museum is an ancient house which owners cultivated sugar cane and reduced human beings to slavery. Two families succeeded each other, first the Panon Desbassyns during the first half of the 19th century and their descendants, the Villèle family until 1973.